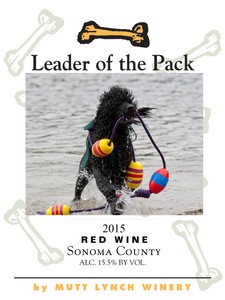 Wine Specs
Appellation
Sonoma County
2015 Leader of the Pack Red Wine
Your Dog a Wine Star...but of course!
Leader of the Pack Custom Label Wine. Customize our Leader of the Pack wine with a beautiful picture of YOUR dog. Our stunning sample label (from a very satisfied customer) shows the potential of this wine to showcase your own dog. And the wine is just as good - we have produced a small amount of an outstanding 2015 Sonoma County red wine, selected from our best barrels of Cabernet Sauvignon and Cabernet Franc.

$20.00 per 750ml bottle
6 bottle minimum purchase required
No quantity discount allowed

So Easy to Order and Produce. Upon ordering the wine, you will receive a request that you send a high resolution digital photograph to us. It's very important that when you send us the digital photo you reference the order number listed on your receipt. All digital photography with corresponding order numbers should be sent to: dan@muttlynchwinery.com We will insert your photograph into our Leader of the Pack label and send a copy to you for your approval. Once approved, we will produce and ship your Leader of the Pack wine to you. It is that easy!
Product Reviews
Lisa Woody
(Nov 29, 2017 at 4:45 AM)
I found this winery through an AKC newsletter. I always look for the unique wine to give as Christmas presents. When I reach out to Mutt Lynch they promptly responded, made sure that the label was the perfect picture of Dixie and I now have my presents ready to go! The support was great and the product wonderful, will do it again, for another season! Lisa
Mary
(Dec 20, 2017 at 7:55 AM)
Have not tasted the wine, but wanted to respond to the attention given to my order. It is a Christmas gift and arrived exactly when Mutt Lynch anticipated it would. Attention given to my order was fantastic and I love the picture of my 2 dogs on the label. My gift recipients will love these bottles of wine. Thank you.
---