Our Vineyards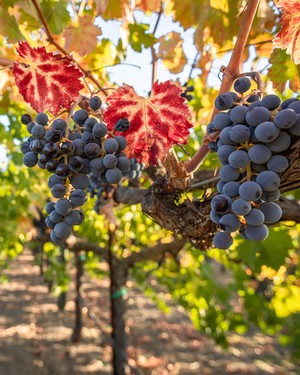 Frediani Vineyard Charbono
Our Reserve "mbf" Vineyards. The vineyards that have a truly special place for Mutt Lynch are those associated with our Reserve "mbf" wines. We leave the farming to long-time grape growers, relying instead on hand shake agreements built on trust and friendship. Each and every vintage, Brenda works with our growers on the "Mutt Lynch blocks," those rows or sections that Brenda has deemed ideal to produce our wines.
Perotti Vineyard, Dry Creek Valley, Sonoma County
Owners – Bruce and Ed Perotti
Varietals – Zinfandel, Cabernet Sauvignon, Petite Sirah
We have sourced our Zinfandel from Ed and Bruce Perotti (father and son) since 1997. In 2002, our friendship led us to their 1.5 acre block of Cabernet Sauvignon and their wonderful old-vine Petite Sirah; Ed had finally decided the "young girl" winemaker knew what she was doing. For us, our 20 years with the vineyard is quite a long time. For Ed, it is barely a blip on the screen. Walking the vineyard with this father and son team, one feels the history. The land has been in the family for over 90 years. Ed's grandfather "Mancini" came from Italy and settled into the Northern Sonoma area to raise fruits and grapes, selling them to other Italian immigrants in the North Beach community in San Francisco. Passing from father to son, Ed took over in the mid 1960's and Bruce has taken charge of farming in recent years. The cycle continues.
Speedy Creek Vineyard, Knights Valley, Sonoma County
Owners - Dave and Kathy Burton
Varietals - Primitivo
Our first vintage securing fruit from Dave and Kathy Burton was in 2008. Dave and Kathy purchased their land in the 1990's with two dreams in mind. His was to plant a vineyard in a great terroir; hers was to retire to a quiet and beautiful part of Sonoma County. They both got their wishes. When Brenda and Dave first hiked his vineyard and Primitivo block, its name instantly rang true. The Burton's estate property is a sustainably farmed, hillside vineyard that is quite steep. Named after the speed of cascading water in its seasonal winter creek, Speedy Creek Vineyard produces intense, mountain grown fruit that Brenda adores.
Frediani Vineyard, Calistoga, Napa Valley
Owners - Frediani Family
Varietals - Charbono
The Frediani family traces their Calistoga roots back to the original settlers in Napa Valley and they have been growing grapes for over 100 years. They are truly an old farming family in the world of California wine. And their signature grape is the rare varietal Charbono. It is a grape that at one time was highly reveled in the Napa Valley. Today there are only 52 acres of Charbono planted in the Napa Valley and another 27 planted elsewhere in California.
Brenda's history with the Frediani vineyard is much more recent and more personal to her home in Calistoga. She has long been friends with neighbors Kenny and Cathy Flynn, part of the extended Frediani family. For years, Brenda would ask Kenny if his grandmother Jeanne Frediani would sell her some of their highly sought after Charbono. Unfortunately, there was none available. Until Jeanne saw Brenda and her twins in church one day. That next year Brenda was able to secure her first Charbono from the Frediani Vineyard from vines dating back to 1938.