Our Winery Dogs Past & Present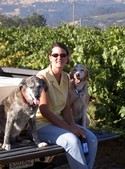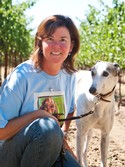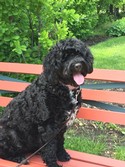 The Original Mutts Nicki and Max. When Mutt Lynch Winery was established in 1995, Maximilian (Max) and Nikita (Nicki) become our original winery dogs. Max was a sweet, sensitive male - a mix of golden lab and english setter we believe. And Nicki was a dominating female - Chesapeake Bay Retriever and Terrior mix. They were the odd couple indeed. To this day, Nicki was the truest winery dog in the traditional sense; she enjoyed riding with Brenda in the back of her pickup truck to vineyards and winery alike. Max was more suited to staying at home in his dog bed. RIP 2004/05.
Our Racing Stud Patch. We rescued Patch, our Greyhound, in 2005 while living in New Zealand. Patch was a champion racing Greyhound who raced for over 5 years. He was fast... and he knew it. This said, and typical of his breed, he was not your typical winery dog. Riding in the back of the pickup was a definite "no". He was most often found sleeping at the winery, preferably in his dog bed. We created a Hound Lounge at our winery just for Patch and his friends, a tradition we carry on with at our tasting room. RIP 2014.
Our Sweet Violet. Violet has spent most of her life living with us in Chicago. We moved back home in the summer of 2017 to once again be full-time near our winery and tasting room. Violet is a beautiful, sweet Portuguese Water Dog who so far prefers the tasting room to the winery. Perhaps it is the fact that there are always other dog visitors to sniff and smell; or perhaps it is the fact that our staff keep giving her dog treats. Brenda swears that she will make Violet a true winery dog soon.... the rest of us are not convinced. We'll keep you posted.
Our 2018 Rosie Rosé Just Won a GOLD MEDAL
Mutt Lynch Voted Best Pet Friendly Winery
in Sonoma County
2019 Bohemian Best of the North Bay Awards
READ NOW!
PLEASE VISIT US at our Tasting Room in Downtown Windsor, Sonoma County
RECENT PRESS - edible Marin & Wine Country just wrote about Mutt Lynch Winery
---