Our Support of Animal Rescue Organizations
Since its inception in 1995, Mutt Lynch Winery is proud to have supported local, national and international animal rescue organizations in their tireless efforts to save pets' lives. We try to help out whenever and wherever we can, in our own small way, with donations of our wine, time and other fundraising activities. May 2019 be a fruitful year for supporting these dedicated and passionate organizations.
Wines That Give Back
Launched in 2017, our Wines That Give Back program has fast become our signature charitable program to support animal rescue organizations with our wines. Winemaker/owner Brenda Lynch works with each nonprofit animal rescue group to design a unique label using artwork that is personal to that organization. In turn, Mutt Lynch donates 25% of the purchase price back to each organization. To date, Mutt Lynch has partnered with five very worthy organizations to create their own Wines That Give Back label -
Yappy Hours at Our Tasting Room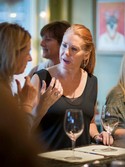 At our Yappy Hours, Mutt Lynch Winery's Tasting Room "comes to life" and is filled with canines and their companions for an evening of wine, dog treats, sipping and sniffing... and fundraising efforts. Our Yappy Hour events are a key part of our charity efforts and enable us to support numerous animal rescue organizations over the course of each year.
Mutt Lynch Partners Across the Country
Over the years, Mutt Lynch Winery has been able to support an ever-growing list of animal rescue organizations, including the outstanding organizations listed below -
Calistoga Cat Action Team
Our 2018 Rosie Rosé Just Won a GOLD MEDAL
Mutt Lynch Voted Best Pet Friendly Winery
in Sonoma County
2019 Bohemian Best of the North Bay Awards
READ NOW!
PLEASE VISIT US at our Tasting Room in Downtown Windsor, Sonoma County
RECENT PRESS - edible Marin & Wine Country just wrote about Mutt Lynch Winery
---