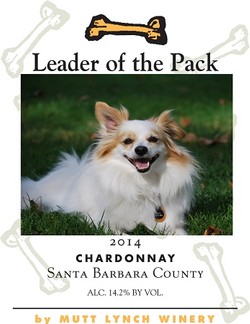 2014 Leader of The Pack Chardonnay
A unique gift to give or receive!
Leader of the Pack Custom Label Wine. Customize our Leader of the Pack wine with a beautiful picture of YOUR dog. Our stunning sample label (from a very satisfied customer) shows the potential of this wine to showcase your own dog. And the wine is just as good - we have produced a small amount of an outstanding 2014 Santa Barbara County Chardonnay. So delicioius, what a treat!

$20.00 per 750ml bottle
12 bottle minimum purchase required (1 case)
No quantity discount allowed
Total Cost: $240 plus applicable tax and shipping cost

So Easy to Order and Produce. Upon ordering the wine, we will request that you send a high resolution digital photograph to us at: dan@muttlynchwinery.com We will insert your photograph into our Leader of the Pack label and send a copy to you for your approval. Once approved, we will produce and ship your Leader of the Pack wine to you. It is that easy!
---
Product Reviews
---