Tasting Room
We Are Moving! December 14th is our last day at this location; details on our new location will be posted shortly. Can't wait to see you at our new digs!
Dog Friendly
Open by Appointment Only: Friday thru Sunday

♦ Make a Reservation Below
♦ Or Give Us a Call at (707) 942-6180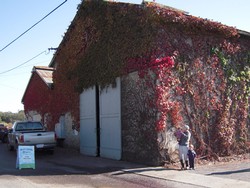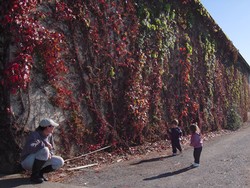 Some wineries have fancy-dancy tasting rooms. At Mutt Lynch, we take a different approach. Our first priority is to play host to you and your canine companions. Yes, that's right - dog's are welcome, in fact encouraged! We love to open our winery doors, turn a barrel on its side, pull out our wines, give your dog a treat (or two or three!) and get to know you while you get to know our wines. We'll even bring our Ipod to play some music... how about "Who Let the Dogs Out" !

Currently, we are open for visits by appointment only and for special events (check out our Events page.) If you're interested in stopping by, please make a reservation below or give us a call (707.942.6180) and we'll schedule a private tasting for you and your guests. Tastings are five dollars per person and you can keep your pawsome tasting glass! We'll even do special events for your four-legged friends--birthdays, "puppy" showers, even "Bark" Mitzvahs!

Winery Location - 602 Limerick Lane, Healdsburg, CA 95448


Reservations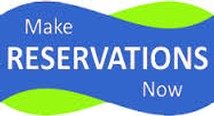 FREE SHIPPING! -- On any of our "Gifts & Apparel" (Excludes Wine Gift Boxes)
DISCOUNTS ON WINE!
15% DISCOUNT ON 12 BOTTLES OR MORE - not valid on already discounted wines, gift sets or custom label wine.
10% DISCOUNT ON 6 BOTTLES OR MORE - not valid on already discounted wines, gift sets or custom label wine
Free Shipping on 6 bottles or more of Rosie Rose!
BREAKING NEWS:
1 Gold, 2 Silver Medals, "mbf" Series - 2013 Sonoma County Harvest Fair Wine Competition
We came, we saw, we medaled! Just annonounced, our Gold Medal win for our 2009 "mbf" Petite Sirah, Perotti Vineyard and Silver Medals for our 2011 "mbf" Primativo, Speedy Creek Vineyard and 2009 "mbf" Zinfandel, Perotti Vineyard.

Two Years & Counting!
Mutt Lynch Wins 2013 San Francisco Chronicle Wine Competition Label Sweepstakes & Best of Class/Series for "mbf"
Repeat! Mutt Lynch has "swept" the San Francisco Chronicle Wine Competition for the second year in a row! Mutt Lynch was named Sweepstakes and Best of Class/Series Winner for our "mbf" labels. We're delighted the labels speak so powerfully to the passion and mission that's behind the brand--to make great wine and to give a leg up to canines in need of rescue. The winery is thrilled with the accolades from this most prestigious competition and we now have our goal set for next year: three-peat!
Dream of a Leash Free World!
Brenda, Chris & Patch
---