Our Vineyards
Since its start in 1995, Mutt Lynch Winery has been sourcing its grapes from vineyards up and down the coast of California. Brenda has one goal in mind - create fruit-forward wines with varietally true aromatics, mid palette weight and flavor, and a full bodied and balanced finish. The beauty of these diverse regions is that they share the cooling influence of the Pacific Ocean. By the way, Brenda's travels always seem to have stops in beach towns for a cold beer at the local pub, which she claims are an equally important part of her winemaking... but that's another story altogether!

However, the vineyards that have a truly special place for Mutt Lynch are those associated with our Canis Major wines. These are our "babies" that get extra love and attention, and they come from two vineyards that neighbor our winery in Dry Creek Valley, Sonoma County. We leave the farming to long-time grape growers, relying instead on hand shake agreements built on trust and friendship. Each and every vintage, Brenda works with our growers on the "Mutt Lynch blocks", those rows or sections that Brenda has deemed ideal to produce our wines.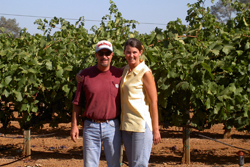 Bruce Perotti and Brenda.
Perotti Vineyard, Dry Creek Valley

Owners – Bruce and Ed Perotti
Varietals – Zinfandel, Cabernet Sauvignon, Petite Sirah
We have sourced our Zinfandel from Ed and Bruce Perotti (father and son) since 1997. In 2002, our friendship led us to their 1.5 acre block of Cabernet Sauvignon and their wonderful old-vine Petite Sirah; Ed had finally decided the "young girl" winemaker knew what she was doing. For us, our 10 years with the vineyard is quite a long time. For Ed, it is barely a blip on the screen. Walking the vineyard with this father and son team, one feels the history. The land has been in the family for over 90 years. Ed's grandfather "Mancini" came from Italy and settled into the Northern Sonoma area to raise fruits and grapes, selling them to other Italian immigrants in the North Beach community in San Francisco. Passing from father to son, Ed took over in the mid 1960's and Bruce has taken charge of farming in recent years. The cycle continues.
PLEASE DONATE GENEROUSLY TO FIRE RELIEF EFFORTS AT: SONOMA COUNTY RESILIENCE FUND
DISCOUNTS ON WINE
15% DISCOUNT 12+ BOTTLES
10% DISCOUNT 6+
*Not valid on already discounted wines, gift sets or custom label wine
Our Mutt Lynch Tasting Room is located at 9050 Windsor Road, Windsor CA. Please Stop In!
AWARDS & ACCOLADES
Double Gold for 2014 HellHound Red - 2017 Sonoma County Harvest Fair
Purchase now!
Bay Woof Magazine Names Mutt Lynch 2016 Beast of The Bay Winner - Dog Friendliest Winery
Read More
Wine Buzz Magazine Names Mutt Lynch One of the Most Pet-Friendly Pours
Full Article
2014 Forbes Magazine Selects Mutt Lynch as Having Coolest Wine Labels--mbf Primitivo, Unleashed Chardonnay and "Rusty" Muttitage
Dream of a Leash-Free World!
Brenda, Chris & Violet

---