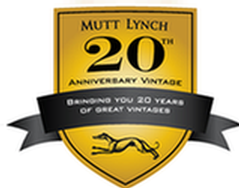 Welcome to a wonderful world where wine and "all things dog" collide into something truly special. Award winning wines with dog-awesome labels, brought to you with a sense of whimsy! What more could you ask for?

On a more serious note, Mutt Lynch Winery is proud to support local animal rescue organizations in their tireless efforts to save pets' lives. A portion of proceeds from every bottle of Mutt Lynch wine is donated to support local animal rescue organizations.

We invite you to sniff around our website and discover Mutt Lynch Winery!

"With the possible exception of Paris, you'd be hard-pressed to find a more canine-inclusive
place to sip wine than Mutt Lynch Winery in Sonoma County." - Dog Fancy Magazine

"This wine sports one of the business's most amusing wine labels... All humor aside,
the wine is doggone good!" - Robert Parker, The Wine Advocate




New location open at 9050 Windsor Road, Windsor CA--Stop in for a tasting - No appointment needed!

2014 Sonoma County Harvest Fair--Double Gold, Silver, Bronze!
2011 mbf Petite Sirah, Perotti Vineyard-Double Gold, 2012 mbf Primitivo, Speedy Creek Vineyard-Silver Medal and 2012 HellHound Red-Bronze Medal. Can you dig it?
2014 Forbes Magazine Coolest Wine Labels--mbf Primitivo, Unleashed Chardonnay, "Rusty" Muttitage
Was there ever any doubt that we have the coolest labels? Well now it's official--singled out by Forbes Magazine no less.
2014 San Francisco Chronicle Wine Competition:
It's a Double Gold for our 2009 "mbf" Dry Creek Valley, Perotti Vineyard, Petite Sirah. That's a lot of precious metal!
Promotions
Free Shipping on any of our "Gifts and Apparel" (Excludes Wine Gift Boxes)
---