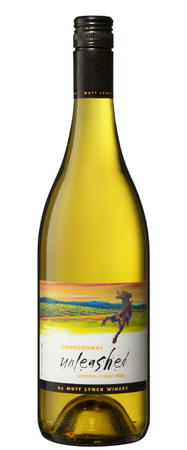 2014 Unleashed Chardonnay
Un-Oaked equals "Unleashed". Our Unleashed Chardonnay is all about "fruit jumping out of the glass", like a dog jumping out of a vineyard! Get it? Brenda balances Chardonnay's natural fruit character with two key winemaking steps - malolactic fermentation to soften the wine's natural acidity and sur lie aging and stirring in tank to provide mid palette creamy richness.
---
Product Reviews
Joseph Mangiantini

(Jun 20, 2015 at 12:45 PM)
What a surprise. I am not sure how the bottle ended up in my collection but it did and what a nice surprise. I took it to an wine sharing event and wow. Wonderful, fruit forward, nicely balanced and great finish. I will be looking for more soon. Great wine.
Michael Sarna

(Mar 16, 2016 at 2:46 PM)
I think the label art share my feelings after trying this outstanding wine. Fruit forward and nicely balanced wine. Paired this up with stuffed lobster tails and it was amazing.
---