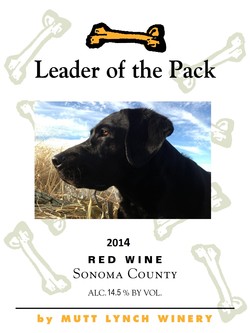 2014 Leader of the Pack
A unique gift to give or receive!
Leader of the Pack Custom Label Wine. Customize our Leader of the Pack wine with a beautiful picture of YOUR dog. Our stunning sample label (from a very satisfied customer) shows the potential of this wine to showcase your own dog. And the wine is just as good - we have produced a small amount of an outstanding 2014 Sonoma County red wine, selected from our best barrels of Cabernet Sauvignon and Cabernet Franc.

$20.00 per 750ml bottle
12 bottle minimum purchase required (1 case)
No quantity discount allowed
Total Cost: $240 plus applicable tax and shipping cost

So Easy to Order and Produce. Upon ordering the wine, you will receive a request that you send a high resolution digital photograph to us. It's very important that when you send us the digital photo you reference the order number listed on your receipt. All digital photography with corresponding order numbers should be sent to: dan@muttlynchwinery.com We will insert your photograph into our Leader of the Pack label and send a copy to you for your approval. Once approved, we will produce and ship your Leader of the Pack wine to you. It is that easy!
Wine Specs
Appellation
Sonoma County
Aging
100% French Oak Barrels
Wine Profile
Ratings
"I received the case of wine with the artist's rendition of our 3 dogs. It was far beyond my expectations - am absolutely THRILLED! Many thanks." - Jaine "The wine was delivered today. The label is spectacular! My husband is going to be so surprised on Christmas morning. I know he'll enjoy the wine, too! Thank you for doing such a fabulous design of our puppy." - Pam "LOVE IT!!!! Thank you." - Colleen "I bought the Leader of the Pack for my husband for Christmas. You put our Elkhound puppy on the label. We've been married for 36 years and this was his favorite Christmas present in all of those years. I'll never top this!" - Pam
---
Product Reviews
David Kaplowitz

(Sep 12, 2016 at 1:09 PM)
We love "Leader of the Pack" - both for what's inside the bottle and on the outside. The custom designed labels are an amazing gift idea - and they look fantastic. The wine itself is excellent as well. I enjoy a full-bodied taste with lots of fruit but not sweet and this year's LOTP does not disappoint. Crisp and dry, but very smooth. We enjoyed it so much we opened a second bottle the night we received it ! I'm ordering another case right now before they sell out.
Deborah Andrew

(Sep 19, 2016 at 3:20 PM)
We took 2 bottles that have our Zoe on the label to a good size neighborhood party last night. Everyone loved this wine. The hostess who is also a dog owner of 3 kept an empty for the info and will probably be ordering for herself. We bought 2 cases, will be ordering more.
---