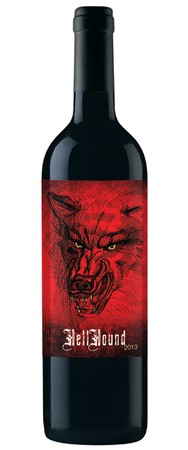 2013 HellHound
A beast of a blend!
Wine Specs
Appellation
Sonoma County
Wine Profile
Tasting Notes
This noble beast opens to aromas of toasty oak and blackberries. On the palate you'll find notes of blackberries, cherries, tobacco and leather. The 2013 HellHound is full-bodied, with silky tannings and a nice finish. Available now for a great taste but will also age well. We're at the mercy of this beauty of a beast. It's big, bold and very tempting. Who's afraid of the big bad wolf? The obvious pairing is something from the grill--steak or even a great burger. But...a great pasta with sausage also comes to mind. You can tame this beast just as Brenda has. Just think of the tribe fireside with a wolf-like beast lurking in the background. He knows that the tribe is his ticket yet...
---
Product Reviews
Allison Kozak

(Oct 10, 2015 at 9:40 PM)
Yowza! This is a big red wine! Full of flavor that lasts on the palate and finishes nice & smooth. Very easy to drink a lot of, as I did! Highly recommend.
Glenn Haagenson

(Oct 23, 2015 at 8:58 PM)
I first tasted this wine on a visit to the Windsor tasting room in September, liked it, bought a bottle. A few days ago I got an e-mail offering it at a sale price and free shipping for 6+ bottles so I ordered 6. Knowing that I was getting 6 more, I opened the bottle I brought home and both my wife and I were blown away. After we emptied it I jumped online and ordered another case. This wine is blended from my 4 favorite varietals and is just outstanding. This experience also reinforced my belief that a tasting room taste can tell you if you might like a wine but you need to savor a full glass (or two) slowly to know for sure......Cheers
Michael Sarna

(Feb 1, 2016 at 6:17 PM)
Enjoying the 2012 vintage as I write this. Full bodied, great long finish. Bold berry flavor. Silky tannins. I say drink and enjoy now...but put a few away for later. I can only guess the same will hold true for the 2013 given time.
---