Our 2011 Dog Art Wine Label Contest Winner is.... Out Of Reach!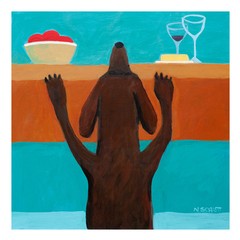 We have deemed our 2011 Dog Art Today • Muttt Lynch Winery Dog Art Wine Label Contest a HOWLING SUCCESS with 101 doggone good entries received. Over 6,000 votes were cast to select the top ten entries. Once again, our judges, Brenda Lynch, Moira McLaughlin from Dog Art Today and Rae Huestis, our label designer, deliberated for over 2 hours before selecting the winner. All of the top ten dog paintings were in the running. Back and forth the comments went, much coffee was consumed, and cell phones had to be plugged in to keep the connection (and the discussion!) going. And finally, one painting was selected... Out Of Reach, by Nancy Schutt.

Congratulations Nancy - we look forward to meeting you in person at Dog Days of Summer. Nancy will be at the event and available to both sign your bottle(s) and to sketch your pet. Don't miss this event, it's doggone awesome! Click Seattle dog artist Nancy Schutt to visit her website and check out her good dog art.



PLEASE VISIT US at our Mutt Lynch Tasting Room on the Town Green in Windsor CA.
RECENT PRESS - Modern Dog Magazine just wrote about Mutt Lynch Winery
DOUBLE GOLD for 2014 HellHound Red - 2017 Sonoma County Harvest Fair
PURCHASE NOW!

JUST RELEASED - Canine Companions for Independence 2015 Red Wine
PURCHASE NOW!
---