Our 2010 Dog Art Wine Label Contest Winner is.... RUSTY

We have deemed our 2010 Dog Art Today • Mutt Lynch Winery Dog Art Wine Label Contest a SMASHING SUCCESS as the results were far beyond our wildest dreams. 77 dog-awesome entries were received! Over 16,000 votes were cast to select the top ten entries. Brenda, Moira McLaughlin from Dog Art Today and Rae Huestis our label designer deliberated for over 3 hours before selecting the winner. All of the top ten dog paintings were in the running. Back and forth the comments went. But finally, one painting was selected... RUSTY by Kimberly Kelly Santini.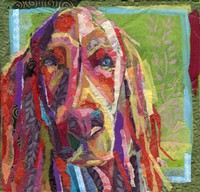 Kimberly's reaction to the news was precious - "I can't believe this. I am blown away. Thank you to Mutt Lynch, Moira McLaughlin and everyone of my collectors and those who cast a vote."

It gets better. The story behind RUSTY is a tear-jerker. RUSTY was painted in memory of Kimberly's Grandfather, who recently passed away. Rusty was Kimberly's Grandparent's dog, from when Kimberly was very young. As Kimberly's family gathered to mourn her Grandfather's passing, stories were being told, and Rusty populated his fair share. Kimberly's favorite was when her Grandma left the Christmas dinner to cool on the countertop while she enjoyed a sherry with Grandpa. They returned to find that Rusty had served himself a rather generous portion of ham, leaving nothing for the family!

It is in the spirit of every dog's dream (the Christmas Ham!), that we are proud to have selected RUSTY as this year's winning entry.

Now the best part comes... the wine!! Rae is frantically designing the RUSTY label, and Brenda has just bottled her 2008 RUSTY Muttitage red wine. And what a wine! Brenda has assembled a blend of 75% Cabernet Sauvignon, 17% Petit Verdot and 8% Petit Sirah from her best French Oak barrels. Stunning flavors and structure.

We will be releasing RUSTY at our Dog Day's of Summer Open House on Saturday August 14. We are trying to get Kimberly and RUSTY (the painting!) to attend. But if you're not able to join us and want to make certain you get your hands on some RUSTY, you can pre-order online.


PLEASE VISIT US at our Mutt Lynch Tasting Room on the Town Green in Windsor CA.
RECENT PRESS - Modern Dog Magazine just wrote about Mutt Lynch Winery
DOUBLE GOLD for 2014 HellHound Red - 2017 Sonoma County Harvest Fair
PURCHASE NOW!

JUST RELEASED - Canine Companions for Independence 2015 Red Wine
PURCHASE NOW!
---