Winemaker & Owner Brenda Lynch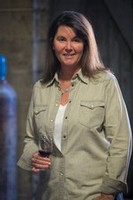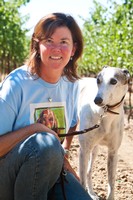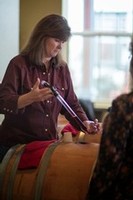 A Passion. Winemaker and owner Brenda Lynch didn't grow up dreaming to be a winemaker. She discovered her passion for winemaking in the most indirect of ways. She met her husband Chris Lynch in the late 1980's. Chris' passion was wine and he dreamed of owning a winery one day. He started to make wine in the garage - books, coursework and unfortunately not one ounce of winemaking talent! Brenda started by helping her "hubbie", quickly assessed the situation and firmly took over - no books, no formal training but a natural sense of "what to do" in the cellar. Wine quality improved dramatically and she was hooked.
Mutt Lynch Winery. Brenda, Chris and their 3 dogs moved to Sonoma County in 1994 and Brenda started to work in cellars in the Russian River Valley. She credits these early years as cellar master with providing the foundation of her winemaking philosophy - harvest beautiful fruit, treat it gently in the winery and keep the winemaking as natural as possible. In 1995, Brenda decided to make her first professional wine, a Dry Creek Valley Zinfandel, and Mutt Lynch Winery was born.
Why The Dog Theme. To this day, people ask Brenda why she named her winery after her dogs. The simple answer has always been "why not". Upon deeper reflection, Brenda would confide that she has never had any personal interest in the pretentious and often stuffy side of the wine business. Quite the opposite. Since her first vintage, Brenda has wanted to make exceptional wine and have fun sharing her wines with friends old and new. Perhaps the inspiration for her winery's name came from a motto Brenda and Chris adapted early in their lives together -
Apply Dog Logic to Life: Eat Well, Be Loved, Get Petted, Sleep Alot, Dream of a Leash-Free World. - Sark
PLEASE VISIT US at our Tasting Room in Downtown Windsor, Sonoma County
RECENT PRESS - edible Marin & Wine Country just wrote about Mutt Lynch Winery
---