Please note: All wine purchases require and adult signature (Age 21+) upon delivery. If you have special requrests - delivery by, delivery after, delivery method, etc., please mention this in your order notes.
If you would like a custom order please feel free to give us a call (707) 942 6180 - we are happy to help!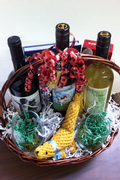 For your most spoiled mutt!
PLEASE DONATE GENEROUSLY TO FIRE RELIEF EFFORTS AT: SONOMA COUNTY RESILIENCE FUND
DISCOUNTS ON WINE
15% DISCOUNT 12+ BOTTLES
10% DISCOUNT 6+
*Not valid on already discounted wines, gift sets or custom label wine
Our Mutt Lynch Tasting Room is located at 9050 Windsor Road, Windsor CA. Please Stop In!
AWARDS & ACCOLADES
Double Gold for 2014 HellHound Red - 2017 Sonoma County Harvest Fair
Purchase now!
Bay Woof Magazine Names Mutt Lynch 2016 Beast of The Bay Winner - Dog Friendliest Winery
Read More
Wine Buzz Magazine Names Mutt Lynch One of the Most Pet-Friendly Pours
Full Article
2014 Forbes Magazine Selects Mutt Lynch as Having Coolest Wine Labels--mbf Primitivo, Unleashed Chardonnay and "Rusty" Muttitage
Dream of a Leash-Free World!
Brenda, Chris & Violet

---