Our Story

Brenda, Chris, Katie & Porter. And their dog Patch.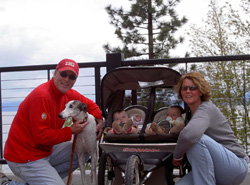 The California wine business brought us together. A chance meeting over 25 years ago and it was love at first sight. It's been a wonderful ride ever since. Mutt Lynch Winery was born in 1995 combining our mutual passion for wine and "all things dog."

Our motto: Apply Dog Logic to Life: Eat Well, Be Loved, Get Petted, Sleep Alot, Dream of a Leash-Free World. - Sark

Natural evolution has carved out our roles. Chris dreamed of owning his own winery and started as winemaker – books, courses and not one ounce of natural production sense. Brenda started by helping her "hubbie", quickly assessed the situation and took over – no books, no courses, but a natural sense of "what to do" in the cellar. Wine quality has been outstanding ever since! Brenda let's Chris work at the winery, but only under close supervision.

The Addition of Twins.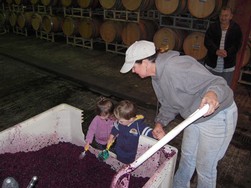 The addition of twins Katie and Porter days before the 2007 harvest added a wonderful layer of chaos to our lives. Our household has always been full of animals - cats and dogs - our children we would say. Now it's the "real deal"... times two!.

We call 2007 our "fog" vintage. Not because of any unusual weather pattern in the vineyards; rather our memories of the winemaking (and life in general!) are quite foggy due to the birth of Katie and Porter on August 16. Just 12 days after their birth, Brenda had our twins at the winery as our Zinfandel grapes came in. Now that's multi-tasking!

Six years on, and the kids love to help "Mommy" at the winery. Porter in particular. But the big adventure for the twins in 2013 is school and well...just being kids. Winery and family time flies. It's all a fantastic adventure and we love it.

And Patch Our Dog.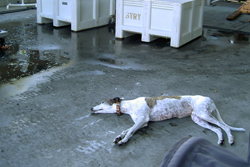 The winery dog. Well sort of. Patch's idea of helping out at the winery looks suspiciously like his activities at the house - find the most comfortable place available, lie down, fall asleep, move only if forced to do so. Forklifts and picking bins seem to be in "his" way, not vice-versa.

To his credit, Patch is a rescue ex-racing Greyhound from New Zealand who had a stellar career down-under. He was the king of his kennel so to speak, and thinks he still should be! His racing these days is limited to chasing squirrels and cats, when he's not sleeping of course.

Each year we think about updating Patch's photos on our webpage. And each year we take a new round of pictures. And each year they look the same. Go figure.
PLEASE DONATE GENEROUSLY TO FIRE RELIEF EFFORTS AT: SONOMA COUNTRY FIRE RESILIENCE FUND
DISCOUNTS ON WINE!
15% DISCOUNT 12+ BOTTLES
10% DISCOUNT 6+
*Not valid on already discounted wines, gift sets or custom label wine

Mutt Lynch is located at 9050 Windsor Road, Windsor CA-- Stop in for a tasting -- No appointment needed!
2017 Sonoma County Harvest Fair--Double Gold!
Our "hellishly" good 2014 HellHound Red took home a double gold in the Bordeaux Blend category. Don't
miss out on your chance to get your hands on this delicious wine. Purchase now!

Bay Woof Magazine Names Mutt Lynch 2016 Beast of The Bay Winner - Dog Friendliest Winery
Multiple wins never get old especially when voted on by readers. Thank you!
Read More
Wine Buzz Magazine Names Mutt Lynch One of the Most Pet-Friendly Pours
Full Article
2015 Orange County Fair--Gold, Silver, Bronze!
2012 mbf Petite Sirah, Perotti Vineyard-Gold, 2012 mbf Chardonnay-Silver, 2012 mbf Primitivo, Speedy Creek Vineyard-Silver,2012 mbf Zinfandel, Perotti Vineyard-Silver, 2012 mbf Charbono, Frediani Vineyard-Bronze. Howlingly good show!
2014 Sonoma County Harvest Fair--Double Gold, Silver, Bronze!
Our 2011 mbf Petite Sirah, Perotti Vineyard was awarded a Double Gold. Over 1,000 wines entered this year and we're thrilled! Our 2012 mbf Primitivo, Speedy Creek Vineyard was awarded a Silver Medal and our newest release--2012 HellHound Red was awarded a Bronze Medal. Can you dig it?
2014 Forbes Magazine Coolest Wine Labels--mbf Primitivo, Unleashed Chardonnay, "Rusty" Muttitage
Was there ever any doubt that we have the coolest labels? Well now it's official--singled out by Forbes Magazine no less. We think it's high time that these wines and labels graced your table!
2014 SF Chronicle Wine Competition Lauds Mutt Lynch Winery--Double Gold & Two Bronze Medals
We're starting to need a vault! Just announced, our Double Gold win for our 2009 "mbf" Petite Sirah, Perotti Vineyard and Bronze Medals each for our 2009 "mbf" Zinfandel, Perotti Vineyard and 2011 "mbf" Primitivo, Speedy Creek Vineyard.
Dream of a Leash-Free World!
Brenda, Chris & Violet

---