Our Story

Brenda and Chris Lynch - Owners.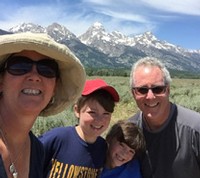 The California wine business brought us together. A chance meeting over 30 years ago and it was love at first sight. It's been a wonderful ride ever since. Mutt Lynch Winery was born in 1995 combining our mutual passion for wine and "all things dog."

Our motto: Apply Dog Logic to Life: Eat Well, Be Loved, Get Petted, Sleep Alot, Dream of a Leash-Free World. - Sark

Natural evolution has carved out our roles. Chris dreamed of owning a winery and started as winemaker – books, courses and not one ounce of talent. Brenda started by helping her "hubbie", quickly assessed the situation and took over – no books, but a natural sense of "what to do" in the cellar. Wine quality has been outstanding ever since!

The Addition of Our Twins Katie and Porter.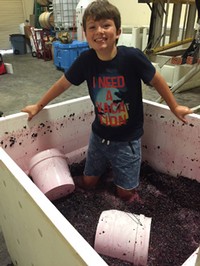 The addition of twins Katie and Porter days before the 2007 harvest added a wonderful layer of chaos to the our lives. Our household has always been full of animals - cats and dogs - our children we would say. We now have the "real deal"... times two!!

We called 2007 our "fog" vintage. Not because of any unusual weather pattern in the vineyards; rather our memories of the winemaking (and life in general!) are quite foggy due to the birth of Katie and Porter on August 16. Just 12 days after their birth, Brenda had our twins at the winery as our Zinfandel grapes came in. Now that's multi-tasking!

10 years on, and the kids love to help "Mommy" at the winery. Porter in particular. Porter is Brenda's grunt labor during harvest - he loves getting dirty and helping with the machinery. Katie is exactly the opposite - she has no interest in winemaking and prefers working the tasting room, bossing around the staff and staying clean! Winery and family time continues to fly by. It's all a fantastic adventure and we love it.

And Violet Our Dog.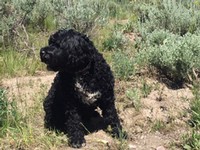 The winery dog. Well sort of. Violet has spent most of her life living with us in Chcago. We moved back "home" in the summer of 2017 to once again be full-time near our winery. Violet is still adjusting to her new winery life!

Violet is our beautiful, slightly chubby, sweet Portuguese Water Dog. And she does love the water! Funny, much like Katie she prefers the tasting room to the winery. Perhaps it is the fact that there are always other dog visitors to sniff and smell; or perhaps it is the fact that our staff keep giving her dog treats. Brenda swears that she will make Violet a true winery dog soon.... the rest of us are not convinced. We'll keep you posted.
PLEASE DONATE GENEROUSLY TO FIRE RELIEF EFFORTS AT: SONOMA COUNTY RESILIENCE FUND
DISCOUNTS ON WINE
15% DISCOUNT 12+ BOTTLES
10% DISCOUNT 6+
*Not valid on already discounted wines, gift sets or custom label wine
Our Mutt Lynch Tasting Room is located at 9050 Windsor Road, Windsor CA. Please Stop In!
AWARDS & ACCOLADES
Double Gold for 2014 HellHound Red - 2017 Sonoma County Harvest Fair
Purchase now!
Bay Woof Magazine Names Mutt Lynch 2016 Beast of The Bay Winner - Dog Friendliest Winery
Read More
Wine Buzz Magazine Names Mutt Lynch One of the Most Pet-Friendly Pours
Full Article
2014 Forbes Magazine Selects Mutt Lynch as Having Coolest Wine Labels--mbf Primitivo, Unleashed Chardonnay and "Rusty" Muttitage
Dream of a Leash-Free World!
Brenda, Chris & Violet

---